Century Business Solutions Partners Promotes Credit Card Processing Within Salesforce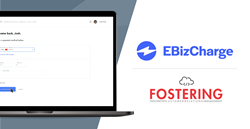 IRVINE, Calif. (PRWEB)
September 17, 2021
Century Business Solutions is excited to announce its partnership with Fostering, a leading Salesforce Solutions partner since 2013, to enable credit card processing directly in Salesforce.
The Century Business Solutions development team built a payment integration for Salesforce that uses Century's proprietary payment gateway, EBizCharge, to deliver credit card processing to thousands of merchants across the country.
Century's credit card integration allows merchants to process credit cards directly from Salesforce.
The powerful EBizCharge payment gateway is designed to reduce processing fees by submitting line item details directly to the bank. EBizCharge is fully PCI compliant and offers advanced data encryption and tokenization technology to ensure maximum transaction security within Salesforce. EBizCharge is compatible with over 100 major ERP and accounting systems and major online shopping carts and provides unlimited transaction and batch history for reporting purposes.
Fostering is excited to see how this partnership can help businesses process payments and nonprofits process donations without leaving Salesforce.
With EBizCharge, users can run custom reports, sort transactions by category, and immediately release funds when issuing refunds.
The partnership between Fostering and Century Business Solutions will help streamline workflow, eliminate double data entry, and make payment processing more efficient within Salesforce.
About Century Business Solutions

Century Business Solutions is reinventing the way businesses accept credit card payments with their all-in-one payment solution, EBizCharge. EBizCharge is one of the best payment gateway alternatives to its more expensive and inefficient counterparts and is specifically designed to reduce payment processing costs and inefficiencies. EBizCharge seamlessly integrates with over 100 accounting, ERP, CRM, and shopping cart systems including QuickBooks, Sage, SAP B1, Microsoft Dynamics, Acumatica, Magento, and WooCommerce. Century is partner and certified with Microsoft Dynamics, Acumatica, SAP, Oracle, QuickBooks, WooCommerce, Magento and many more. For more information visit https://www.centurybizsolutions.net.
About the reception

Fostering has over 15 Salesforce certifications and over 300 successful projects.

"Encourage the development of a customer-centric culture through the best and most daring technology. We do this by being the greatest servant among us, just as Christ served us. For more information visit https://fosteringllc.com/
Share the article on social media or by email: