Medical students practice on you while you sleep – The Chart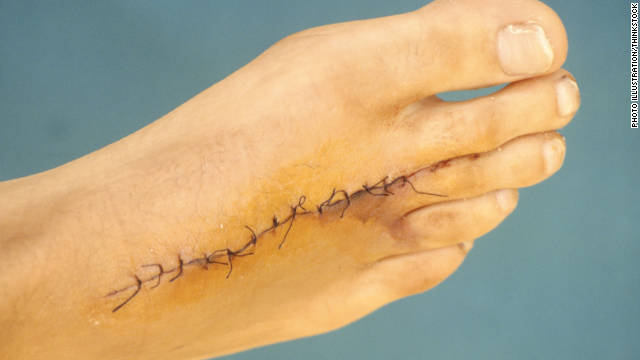 Anthony Youn, MD, is a plastic surgeon in Metro Detroit. He is the author of "In the stitches," a humorous memoir about growing up in Asian America and becoming a doctor.
Autumn. The air gets fresh and crisp, the leaves change color, and third-year medical students descend into hospitals to learn how to be real doctors… by practicing on real people.
As a plastic surgeon, part of my job includes the art of suturing. Over the past 15 years, I have repaired over 10,000 cuts, incisions, bites and wounds.
I've seen it all – people who have been sliced ​​by beer bottles, attacked by wild animals and even injured by – I want to be delicate here – "personal and intimate devices". I have done so many sutures that sewing people back together has become second nature. I can fix a dog bite in my face blindfolded.

But how does a surgeon become an expert in suturing? By practicing on people some of whom may not even suspect it. When I first came to medical school, I had never sewn up a real person. The closest I came to was beating my older brother in Operation. I had a long way to go.
I started out by learning how to tie surgical knots. I had never been an Eagle Scout or a Sailor, so my knotting experience was limited to buckling the laces on my Nike. I started off with a "tie-up training board". The plank consisted of laces and a simulated surgical incision made of plastic and rubber bands.
The first time I picked it up I felt like I had six inches in each hand. It took several hours, but I finally figured out how to tie the knots. Then I became proficient. And then I became a knotting magician.
Next step, the real deal. Suture. Many hospitals keep their old sutures unopened so that their industrious students can practice. In order to impress the surgeons and get a good grade, I had to dazzle them with my suturing skills. The pressure was on.
First, I collected a ton of unused sutures from the hospital. Then I borrowed surgical instruments from my father, a gynecologist. Finally, I went to the local butcher's shop and bought about ten pig's trotters. I took them home and stuffed them in my freezer. Why? The texture of the skin of a pig's trotters is very similar to that of human skin.
Every night I would come home and train. I would cut off the pig's foot with a steak knife and practice sewing it over and over again, countless times, until my fingers got sore. If the butcher didn't have Porky piggies, I replaced the chicken breasts, a decent alternative in terms of skin texture and much tastier.
By the time I started my third year, I was ready for real living human beings, who luckily, for both of us, were usually sound asleep.
The first person I sutured was a young mother who allowed me to repair her surgical incision under the supervision of her obstetrician. I will be honest. I was a nervous wreck. My hands were shaking, my pulse quickening, sweat was running down my forehead. For a moment my vision blurred. The single incision swirled, widened and contracted. I felt like I was looking through a kaleidoscope.
Then I closed my eyes and imagined the foot of my faithful pig.
I visualized myself suturing. I opened my eyes. I felt calm. I took a deep breath. With the doctor leading me, I tied a perfect surgeon's knot. I started to suture slowly. Gently. Effortlessly.
This moment – the first time a nervous and inexperienced medical student sutures a living patient – is not just a common occurrence, it is a crucial part of a surgeon's training. To become great surgeons, medical students need to practice on real people.
Full disclosure. If you are having surgery and you meet with a medical student before the procedure, it is likely that the student will practice suturing you. I have been this student hundreds of times, however, unless the patient requested it, the surgeon never openly admitted to the patient that I was going to be the one to do the suture.
Surgeons often omitted this important information to save the patient from unnecessary worry. I often stayed awake at night, fearing that the sutures I had made that day would come undone, the incision would open, and the patient's bowels would fall to the floor.
Although this has never happened, I wouldn't want the patient to worry about the same. Truth be told, the surgeons who supervised me always made sure that my suture unfolded exactly as they would themselves.
Of course, a patient has rights. A patient can refuse a medical student to participate in their care. I understand if a patient feels uncomfortable allowing a medical student to suture while the patient is sleeping. But to those of you who allowed me to practice on you when I was in training: My patients today and thank you.